An Old Favorite: Exploring Used Honda Civics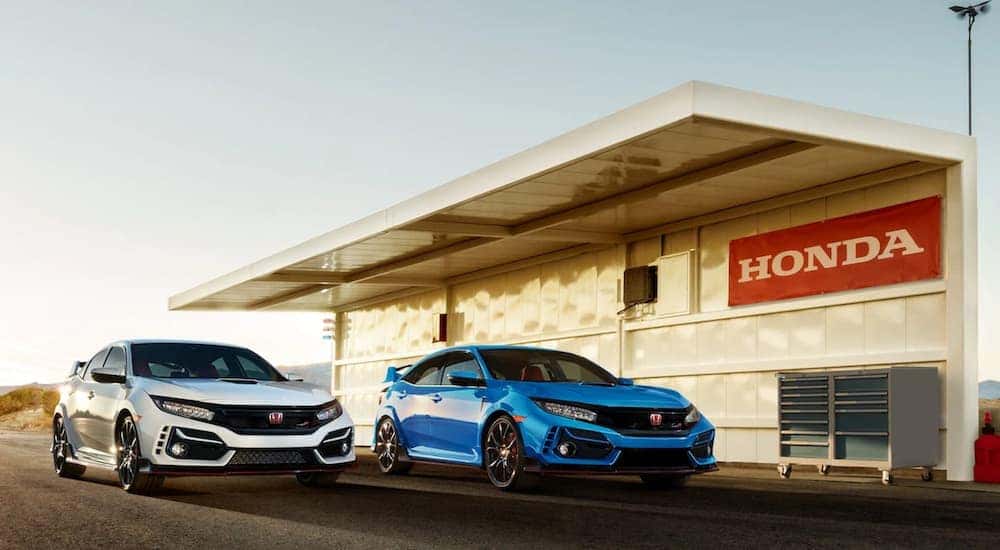 If you ask any driver what the first vehicles that come to their mind are when they hear the word "Honda," there's a strong possibility the Honda Civic will be amongst those listed. How could it not be? The Honda Civic is a sedan that needs no introduction to those familiar with the Honda lineup, but if you're unfamiliar with the Civic, then all you need to know is that it's one of Honda's most legendary automobiles. The Civic has been on the market since 1972, and over those fifty years on the market, there's been a significant evolution that gradually formed the Civic into what we know it as today. Why are we talking about this today? At Ryan Honda, we're a used Honda dealership that you can trust.
If you're in the market for a used Honda, there's arguably no better place to look first than the Civic. Unlike many vehicles on the market, the Civic has gone through nearly a dozen iterations, which is a byproduct of its impressive longevity on the market. If you're looking for the latest model Civic, then the eleventh generation is where you should start. However, since the eleventh generation of the Honda Civic began with the 2022 model year, there aren't currently too many pre-owned Civic models from this generation. This will change over time, but there's no reason to fret because there are numerous used Civic models from the preceding generations, such as the tenth and ninth generations beginning in 2016 and 2011, respectively.
What's the Performance Like?
Many different powertrain configurations have appeared on Civic models in the last decade or so. Starting with the second-to-latest generation Civic, the tenth generation, and using a 2021 model for reference, there are three available powertrains. The Civic has everything you'd want from a sedan, including turbocharged engines. However, the main benefit, regardless of which powertrain you choose, is exceptional fuel efficiency. The 2021 Honda Civic is available with either a 2.0L I-4, turbocharged 1.5L I-4, or turbocharged 2.0L I-4 engine, allowing you to choose the powertrain that best matches your driving needs.
The base engine produces 158 hp and 138 lb-ft of torque, and with this powertrain, you can expect EPA-estimated ratings of 30 MPG in the city and 38 on the MPG highway.[a] This engine is a good first for in-town driving. The real star of the show, however, is the available turbocharged 2.0L I-4 engine in the Honda Civic Type R because it creates an impressive 306 hp and 295 lb-ft of torque. With this kind of performance, this is a car that means business. However, if you want the most fuel-efficient powertrain, then the turbocharged 1.5L I-4 engine is the answer, with its EPA-estimated ratings of 32 MPG in the city and 42 MPG on the highway.[a] There's plenty of money to be saved with this level of fuel efficiency. You don't need the 2021 model to secure that kind of base-level performance either because the 1.5L I-4 engine has been available since 2016, as well as the standard 2.0L I-4.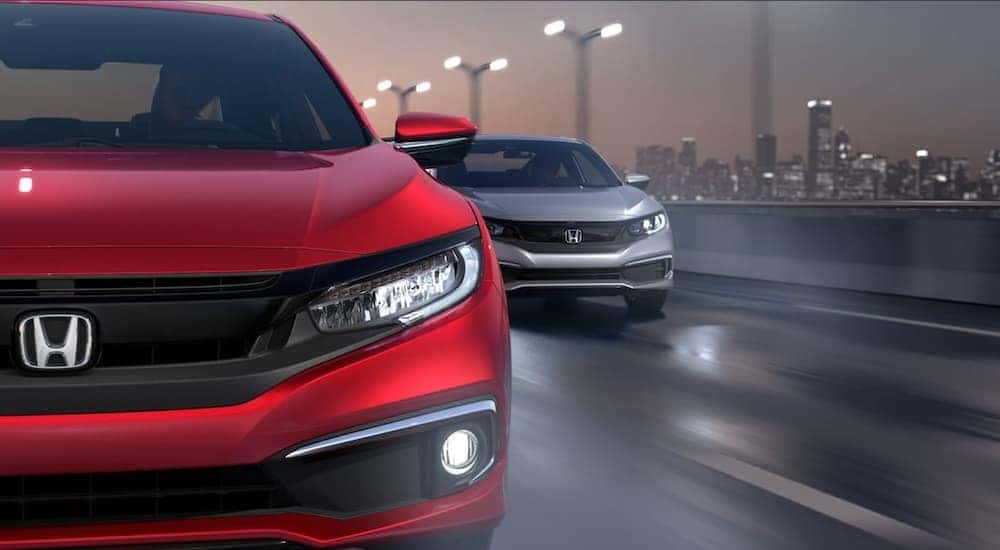 A Feature-Rich Sedan
Something that Honda has done exceptionally well over the years is to make the Civics stand out with impressive features for the price. Starting in 2014, we began seeing something more akin to the modern infotainment center experience in the form of a 5-inch screen that would display all of your media. Truth be told, if the underlying tech inside of your vehicle is something important to you, you'll likely want to invest in a newer model such as the 2016 Civic, which at that point was the start of a new generation. This was the first year of the Civic where we saw Apple CarPlay and Android Auto built into the infotainment center with a new 7-inch touchscreen, albeit at the start, it was a costly upgrade. It's worth noting that Apple CarPlay and Android Auto didn't begin coming standard on the Civic until the 2021 model year, but opting for anything above the base trim should secure you these features when shopping for a used Honda Civic.
Should you care that much about Apple CarPlay and Android Auto? Again, these features aren't necessary, but they undoubtedly are nice amenities to have. Unlike new vehicles, purchasing a used vehicle doesn't always guarantee that you'll get these features, but the chances are high that you can find a used Civic with both Apple CarPlay and Android Auto if you do your shopping correctly. These features will bring new layers of connectivity to your infotainment center, and with the help of built-in navigation in addition to the exceptional fuel economy ratings––the Civic is easily a vehicle to recommend for drivers commuting into Williston or anyone who spends a lot of time on the highways of North Dakota.
What about safety? Safety, whether we're discussing assistive features or the general quality of the vehicle, is one of Honda's most notable strengths. Although advanced safety features were available on older Civic models, such as the 2016 Civic, some of these features would become more streamlined and standard with later models. An example of this is Lane Departure Warning, which wasn't standard on older models. With the release of the 2019 Civic, this safety system became standard, helping drivers remain in their lanes during long drives across North Dakota.
It was also with the 2019 Civic when Honda Sensing would begin coming standard with the vehicle. When shopping for a used Civic, there's a high probability that you'll find an older Civic with some of the features found in Honda Sensing, but if you were to purchase a Civic from 2019 or newer, then you can guarantee that you'll have these features installed. Among the features that you can expect to find with Honda Sensing are Honda's Road Departure Mitigation System, which will provide steering inputs to keep you on the road. And, of course, like any safety suite worth its salt, a Collision Mitigation Braking System is in place to protect yourself and others from potentially life-threatening frontal impacts.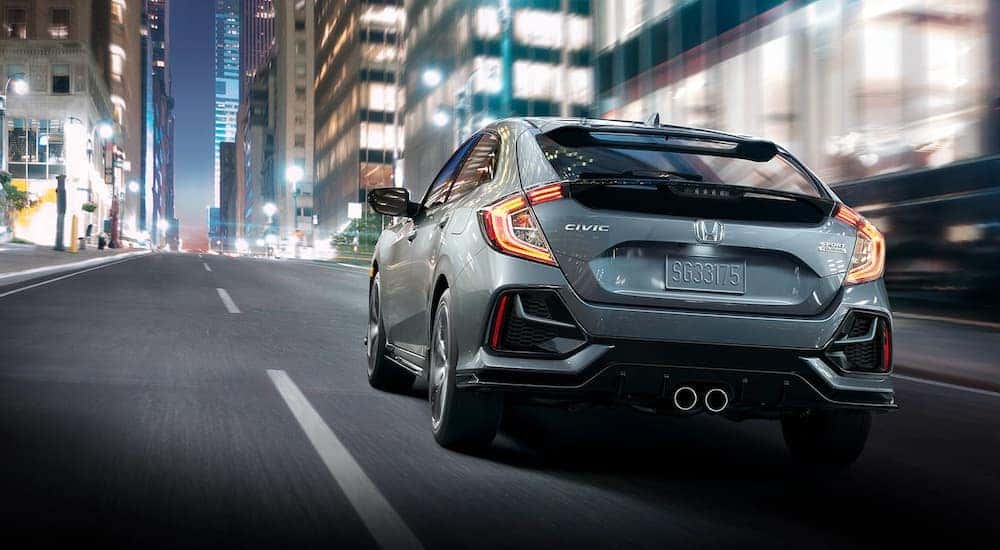 One of the Best Deals Around
The Honda Civic is easy to love, and given its impressive history with features, pricing, and especially fuel efficiency, there are few reasons, if any, why you shouldn't buy one. It's simple––if you're looking for a used vehicle and you're interested in grabbing a Honda, then the Civic will be a guaranteed way to save money while also obtaining a feature-rich vehicle that pushes well above its weight in regards to features and pricing. In the current market, the Civic is Honda's most affordable sedan, but it wouldn't give you that impression at first glance. Sitting at a few thousand dollars cheaper than the Insight or Accord, the Civic is usually the first sedan that people will look at in the lineup and then gradually move up from there if needed. However, we know that you want to get your used Civic now, so why not contact us or come down to Ryan Honda to get yours today? We can help you find the best deals, and our service will outmatch any dealership you've ever visited before.
---
[a] Based on EPA mileage ratings. Use for comparison purposes only. Mileage will depend on model year, trim, and condition of the vehicle. Your mileage will also vary depending on how you drive and maintain your vehicle, driving conditions and other factors.