Budget-Savvy and Without Compromise: Shopping for a Used Honda Pilot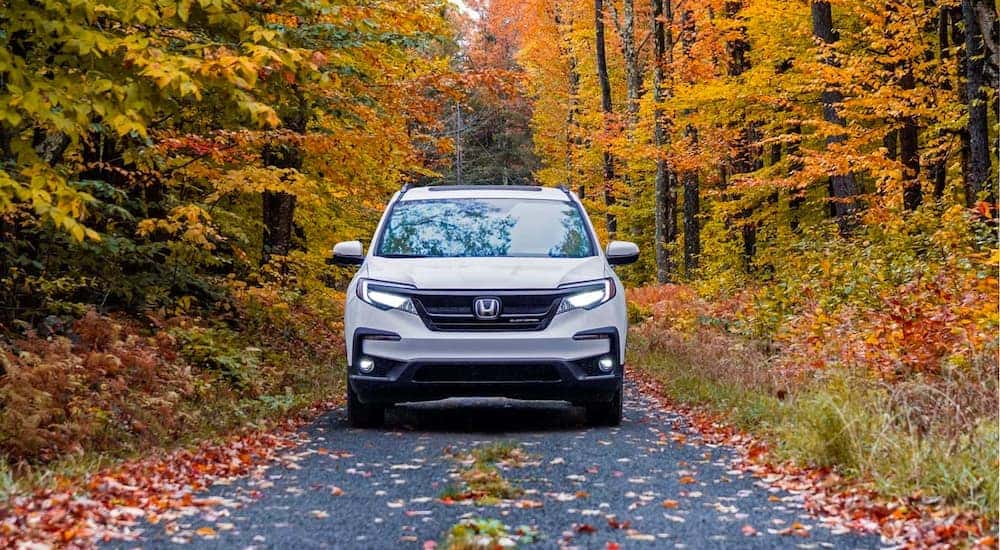 The Pilot has done something remarkable for Honda since its 2003 debut by giving drivers sedan-like performance, the spaciousness of an SUV, and the towing capacity and adventurous spirit of a midsize truck. Honda has capitalized on the Pilot's versatility over the last two decades and has recently sent the industry into a tailspin with its 2023 redesign that reintroduces it as a boxier, truck-like SUV. While many drivers are anxious to see the new model and its rugged design, countless others know the value of shopping for a used Honda Pilot for sale goes beyond its classic design and innovative features. How so?
Your Wallet Will Thank You
The value of investing in a used Honda Pilot starts with one significant consideration: depreciation or loss in value. The 2023 Pilot has a starting MSRP of $39,150, a slight increase over the 2022 model's $38,080 starting MSRP.[a] While the price is affordable, it's a steep price to pay in the long run considering every new vehicle is prone to rapid depreciation, even one with the Honda name.
Although Honda is renowned for building long-lasting vehicles, every model begins depreciating as soon as you drive it off the lot. Auto finance experts project that most new cars, trucks, and SUVs lose around 11% in value as soon as they leave the lot, meaning you've lost about $4,400 on your 2023 Pilot before you get it home. This depreciation continues over the next five years for an average loss of 60%, making your 2023 Pilot worth around $16,000, depending on mileage and condition.
Avoiding this rapid rate of depreciation is easier than most expect. Instead of paying the new sticker price, you can invest in a used model that's already faced its most significant loss in value. As a result, you pay closer to the vehicle's actual value in exchange for a few miles on the odometer. On a Honda SUV like the Pilot, it's a win-win because every generation of the Pilot is incredibly impressive in terms of performance, conveniences, and technology. These characteristics are integral to the Honda name and make a used Pilot incredibly valuable and enticing to budget-savvy shoppers.
Meet the First-Generation Pilot: 2003-2008
The SUV craze of the late 1990s and new millennium prompted automakers like Ford and Chevrolet to answer the growing demand with models like the Explorer and Trailblazer. These SUVs relied on body-on-frame construction and handled more like trucks, which forced drivers to sacrifice comfort for capability. Honda recognized this sacrifice and set out to deliver something better; an SUV built on a unibody structure that promised sedan-like handling and truck-like performance. The Pilot was born.
The first-generation Pilot debuted in 2003, sharing the unibody structure of the Odyssey minivan and the luxurious Acura MDX SUV. Its platform gave it many advantages over rivals, from its handling to its cargo-hauling capacities that you can still take advantage of today. For example, the 2003 Pilot introduced a wider wheel track and the spacious cargo capacity of 90.3 cu.ft., making it capable of hauling items up to four feet wide. This versatility reflects the Pilot's promise to be the "Ultimate American Family Adventure Vehicle."
Honda guaranteed as much by outfitting the first-generation Pilot with a capable powertrain that blended performance and efficiency. The 3.5L V6 engine complements the SUV's agility, churning out 240 hp and 242 lb-ft of torque for what was unparalleled acceleration and passing performance at the time. In addition, the standard all-wheel drive system made the first-generation Pilot an agile warrior on and off the pavement, with ride quality and handling enhanced by the Pilot's specially tuned tires, steering, and four-wheel independent suspension.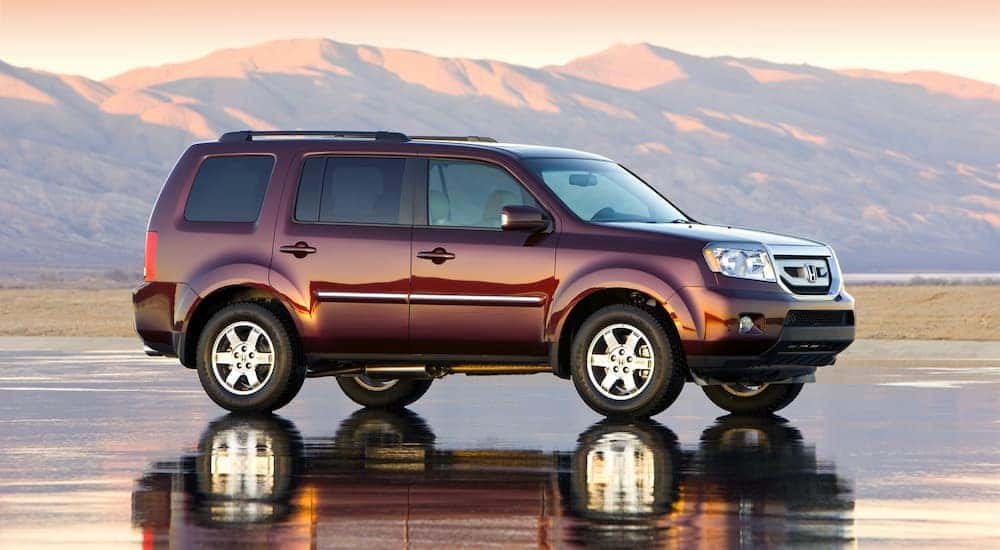 Meet the Second-Generation Pilot: 2009-2015
The Pilot's exceptional performance and features made it a staple in the lineup and a top seller throughout its first generation. Honda capitalized on its success and took the popular SUV to new heights with the debut of the second generation in 2009. More rugged and refined than its predecessor, the second-generation Pilot offers enhanced capability, improved handling, heightened performance, and a bolder style complemented by next-level technology and a host of conveniences.
Honda stretched the Pilot nearly three inches to expand the SUV's passenger and cargo volume for 2009. This expansion also introduced a notable increase in power, with the Pilot's updated 3.5L V6 producing 250 hp and 253 lb-ft of torque. Along with these updates, Honda introduced new features and conveniences that make this generation Pilot more accessible, enjoyable, and versatile. For example, the integrated tow hitch makes towing modest-sized loads more convenient, the tilt and telescopic steering column enhances driver comfort, and the power tailgate with a lift-up glass hatch makes accessing rear cargo a breeze. In addition, technology like Bluetooth HandsFreeLink found on top-tier trims like the Touring adds to the driver's experience and gives budget-savvy shoppers an integral connectivity feature at a fraction of the cost of a newer model.
Meet the Third-Generation Pilot: 2016-2022
While the second-generation Pilot offers an incredible value on the lot of used Honda dealerships, that value significantly increases when you get behind the wheel of a third-generation Pilot built from 2016 to 2022. Honda introduced the next iteration of the Pilot in 2016 to widespread acclaim. Why? Because the three-row SUV remained true to its roots, delivering car-like performance and truck-like capability with a plethora of new technology and enhanced agility.
Honda redesigned the third-generation Pilot from the ground up, extending its wheelbase yet trimming nearly 300 lbs off its weight to enhance its handling and performance. Along with these improvements, the third-generation Pilot introduces another increase in power, with its 3.5L engine now churning out 280 hp and 262 lb-ft of torque. Also, for the first time in its history, the Pilot offers two new transmissions–a six-speed or nine-speed automatic, making it easier to harness the SUV's power without compromising efficiency.
Beyond the third-generation Pilot's enhanced performance, it also introduces a new suite of innovative technology that adds to its value and makes it the ultimate, family-friendly SUV. This technology is centralized in the Honda Sensing suite, one of the industry's most advanced and comprehensive safety and driver-assistance packages. The suite outfits the Pilot with intelligent features like blind spot monitoring, a collision mitigation braking system, a road departure mitigation system, a rear cross traffic monitor, lane departure warning, forward collision warning, and adaptive cruise control.
The 2016 Pilot introduced many of these safety and driver-assist features, but Honda refused to stop there. Throughout the third generation and even with the introduction of the fourth generation, Honda has continuously updated and improved the suite to include more advanced technology. This tech-centric focus and progression of features give the third-generation Pilot a significant advantage over its predecessors, adding exceptional value and engineering peace of mind wherever the road takes you.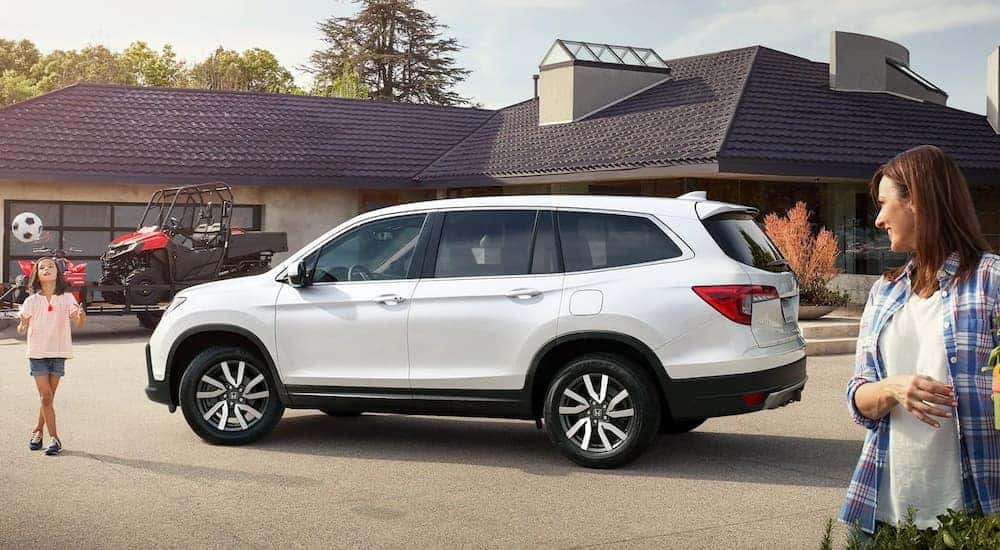 Piloting Your Next Adventure
You can never go wrong by investing in a Honda. Why? The automaker is renowned for building practical and versatile vehicles that are capable performers and efficient, reliable, and well-equipped. Shopping for a used Honda Pilot gives you a front-row seat to these characteristics and guarantees you never have to compromise or lower your standards when you shop from the Honda lineup. The Pilot has something to offer everyone and takes a no-compromise approach to its reign as Honda's most adventurous and versatile SUV.
---
[a] MSRP excluding tax, license, registration, $1,295 destination charge and accessories. Dealer prices may vary. MSRP does not include $395 charge for premium colors.