Here Comes the All-New 2023 Honda HR-V, and Here's Why You Should Be Excited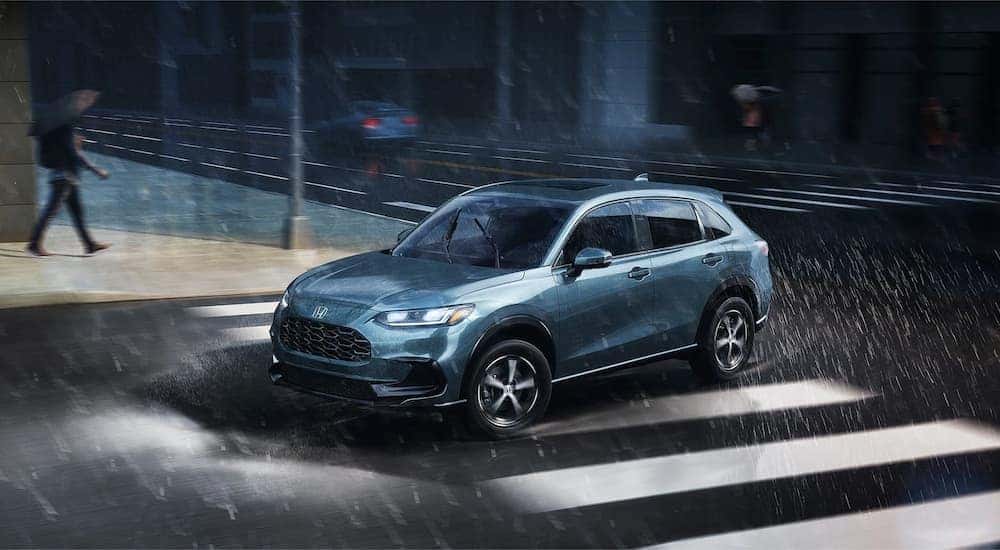 The wait is almost over! The all-new Honda HR-V is scheduled to arrive in summer 2022, and you can bet it'll be here at Ryan Honda, your local Honda dealer in Williston. Honda has revitalized its popular subcompact crossover with tons of new technology, including infotainment system upgrades and driver-assist safety features. This exciting second-generation HR-V is perfect for drivers looking to get behind the wheel of a fun, stylish crossover that leads the pack in innovation.
The HR-V is a sporty option in a category filled with similar utes that fall short on style. With the most recent redesign, Honda positions the HR-V for a wide variety of buyers, from commuters to families. It features a longer wheelbase, which means more cabin and cargo space for your adventures. Plus, as a subcompact crossover, the HR-V is right at home in urban environments.
So, how did Honda get here with the HR-V? You could say it was an overnight sensation. Since its debut in 2016, the HR-V has drawn buyers for its combination of practicality and style. Not only that, but innovative features like the Magic Seat help it stand out in a sea of vanilla alternatives. Here's a look back at the HR-V as we prepare to welcome the newest generation.
The 2016 HR-V Launch
Slated as an "entry" crossover, the 2016 Honda HR-V burst onto the scene as the most affordable crossover in Honda's lineup. For its inaugural year, the HR-V came in three trims: the LX, the EX, and the EX-L Navi. Spaciousness came by way of 58.8 cubic feet of max cargo volume and comfortable seating for up to five passengers. The flexible seating easily allowed drivers to configure the cabin for multiple uses.
The HR-V received its power from a 1.8-liter four-cylinder i-VTEC engine that generated 141 horsepower and 127 lb-ft of torque. Buyers could choose between a 6-speed manual transmission or an automatic continuously variable transmission (CVT), as well as front-wheel drive or Real Time front-wheel drive trains. This, coupled with an estimated highway fuel economy rating of 34 MPG (miles per gallon), depending on trim, made the HR-V one of the most fuel efficient crossovers in the category. [a]
Honda positioned the HR-V's fuel tank at the center of the chassis to make room for the second-row Magic Seat to fold completely flat and offered it as a standard feature across the trim range. HR-V LX buyers also got 17-inch wheels, a 5-inch touchscreen, LED taillights, intermittent windshield wipers, and speed-sensitive audio system volume control. EX buyers enjoyed a 6-speaker audio system, heated front seats, fog lights, and a moonroof.
At the top of the lineup, the HR-V EX-L Navi featured leather seats, a leather-wrapped steering wheel and shift knob, and standard satellite-enabled navigation. SiriusXM radio was included, along with an HD radio feature and real-time traffic updates. An auto day/night mirror and a set of roof rails rounded out the long list of standard features found on Honda's top-of-the-line HR-V. Still, with its expansive list of standard high-end features, the HR-V EX-L Navi remained comfortably affordable for many buyers.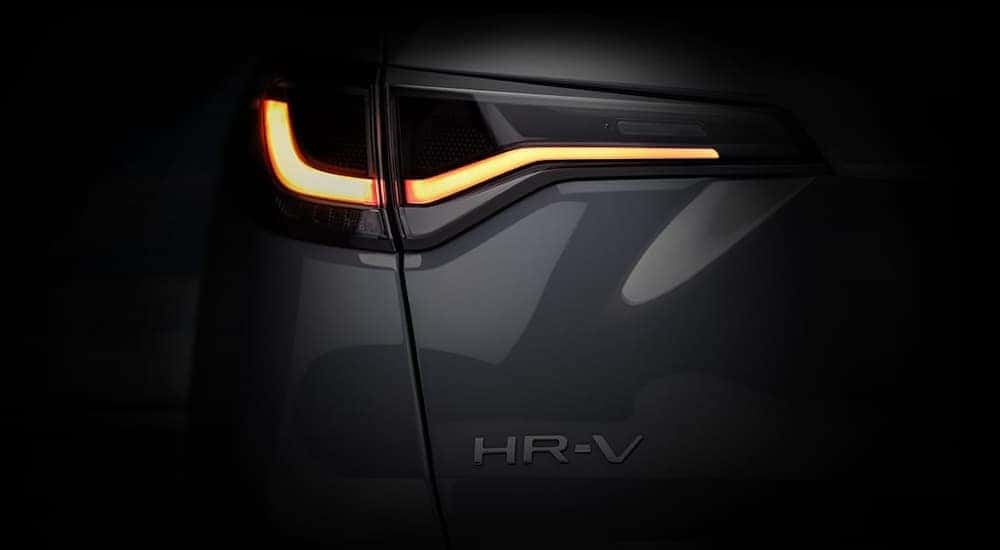 First Gen Model Year Upgrades
By 2019, Honda decided it was time for an HR-V refresh. The automaker restyled the HR-V's front grille with new headlights and a more aggressive, sloped hood and bumper. The 2019 model also saw a more robust infotainment system that included available Apple CarPlay and Android Auto connectivity. Honda tweaked the trim lineup, too, offering the 2019 Honda HR-V in five trims instead of three.
Buyers that chose the EX, the EX-L, or the upscale Touring, received standard Honda Sensing, a suite of driver-assist safety systems that use cameras, radar, and sensors to continuously monitor the area around the vehicle and alert the driver to any potential hazards. The new infotainment system featured a generously sized 7-inch touchscreen on all but the base LX trim.
Automotive journalists remained enthralled by Honda's Magic Seat, with Car and Driver calling it "the HR-V's party piece," which folds completely flat and low to the ground. The bottom section of the rear seat can also be hinged up, which reveals a deep storage well beneath it. The Magic Seat provided drivers with versatility and the ability to haul a surprising amount of cargo.
Throughout its life cycle, the HR-V continued to do what it was designed to do: provide practicality without sacrificing exterior curb appeal. Upper-level trims offered a refined cabin environment, with upscale finishes and tons of space for passengers and gear. Not only that, but the new Honda HR-V earned a 5-Star Overall Safety Rating from the National Highway Transportation Safety Administration every year since its initial release. [b]
The 2023 HR-V: What to Expect
Honda announced that the all-new 2023 HR-V would share a platform with the wildly popular Civic, which means this newest version will offer even more plentiful interior space. It also takes some styling cues from the sleek Honda Civic sedan, with a longer, wider curb presence and a slanted front end that gives it a sportier, more aggressive appearance.
The 2023 HR-V will be the peppiest HR-V ever, with a more powerful engine planned that many believe will increase horsepower ratings to the 180 range. Given that HR-V sales hovered close to 140,000 units in the 2021 model year, Honda recognizes that the subcompact crossover buyer values practicality and reliability. Still, Honda puts a premium on making the 2023 HR-V even more fun to drive, adding an independent rear suspension for better road handling capability.
As the "gateway to the Honda brand," Honda makes no bones about the importance of the HR-V in its lineup. The HR-V is priced for first-time buyers, and it's that first impression that will undoubtedly lead to lifetime Honda brand loyalty. It's no wonder the 2023 HR-V will have tons of upscale features, like sleek LED headlights and a ton of standard driver-assist safety and convenience features.
Buyers and industry insiders are holding their breath for the completely redesigned 2023 Honda Hi-rider Revolutionary Vehicle, better known as the HR-V. Ditching its old architecture in favor of more modern drivetrain components and larger dimensions, Honda hopes this newest subcompact HR-V crossover will strike a chord with buyers.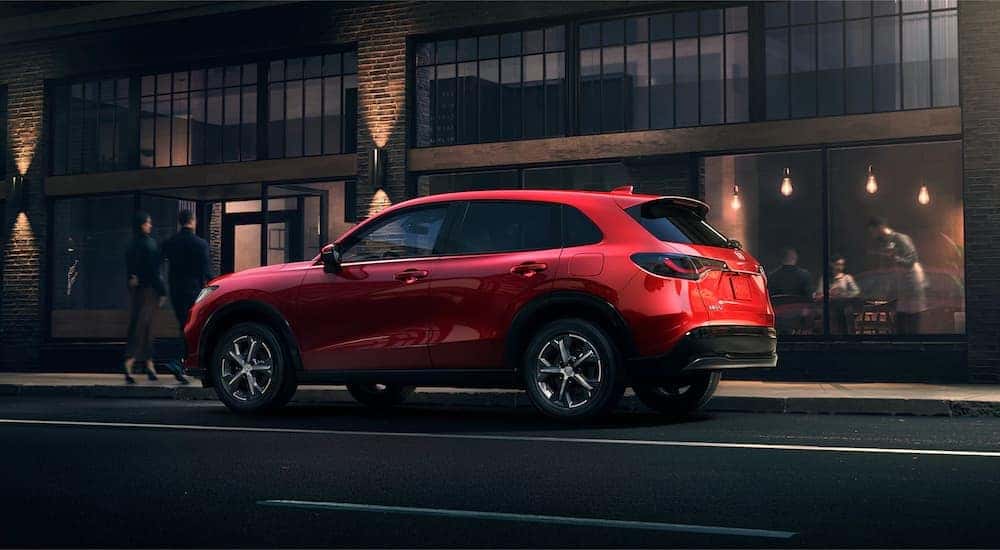 Get Ready for a New Generation of HR-V
Stock in trade for a best-selling subcompact crossover is having an affordable price tag. Though Honda hasn't released pricing on the 2023 HR-V, most insiders expect it to start at under or just at $25,000, which means it's within reach even for budget-minded buyers. [c] Why buy used when you can park a brand new HR-V in your driveway, with all the latest infotainment and driver-assist technology.
The Honda lineup continues to draw buyers for its legendary reliability and practicality, but as Honda demonstrates with this newest 2023 HR-V version, it's not all about logic. The HR-V hits a bullseye on style, offering a sculpted exterior and athletic lines that you'd expect to see on crossovers with much higher price tags. Honda defies the norm, instead infusing even the most affordable crossover with upscale, desirable features.
What do you look for in a crossover? If you answered fuel economy and low cost of ownership, you're in luck. The HR-V is a fuel-sipping alternative to other vehicles in the segment. Honda's signature reliability means you'll have added peace of mind that your HR-V will provide years of worry-free driving. Style, affordability, and driving enjoyment are yours with the all-new 2023 Honda HR-V.
---
[a] Based on EPA mileage ratings. Use for comparison purposes only. Mileage will depend on model year, trim, and condition of the vehicle. Your mileage will also vary depending on how you drive and maintain your vehicle, driving conditions and other factors.
[b] Honda HR-V won the 5-Star Overall Safety Rating. For more information, visit the National Highway Traffic Safety Administration nhtsa.org. The National Highway Traffic Safety Administration is a registered trademark of The US Department of Transportation.
[c] MSRP excluding tax, license, registration, $1,245 destination charge and accessories. Dealer prices may vary. MSRP does not include $395 charge for premium colors. MSRP excluding tax, license, registration, $1,245 destination charge and accessories. Dealer prices may vary. MSRP does not include $395 charge for premium colors.