Three Excellent Honda Vehicles for Families Big and Small
When most people think of Honda, they think of models like the Accord or the Civic. That's not all the brand has to offer; they've done quite well in other areas of the market, and you can see that when you check out our inventory here at Ryan Honda of Williston. For North Dakota residents searching for a Honda dealer near Watford City, look no further than us for all your Honda needs. We offer an extensive selection of Honda vehicles that are perfect for larger families, and our friendly and knowledgeable team would be happy to show you everything these exceptional models can offer your household.
With the Honda lineup, you may not realize just how many options are available to you, even with a larger family. Interested in finding a family commuter vehicle that can pack everyone in while still providing enough space and entertainment for the whole family? Honda's got your back. The company's reputation for innovative, high-quality, dependable vehicles has resulted in quite a bit of popularity over the years. Let's take a look at some of the most popular models that provide room for a growing family.
The Honda CR-V: A Jack-Of-All-Trades Compact SUV
One of the things that have kept Honda popular with drivers is the broad appeal of Honda's vehicles. Most everyone can find something they like, and with Honda's aforementioned reputation, it's a wonder sometimes that people drive anything else. Especially for families, a durable, dependable vehicle is a must. Commuting to school, work, holiday events, birthdays, the grocery store, and appointments would be exhausting in something that didn't perform well every time you needed to go somewhere.
Thankfully, you don't have to worry about that with Honda, and with a new or used Honda CR-V, you've even got a choice on what type of powertrain you want. Do you prefer a gas-fueled engine? It's got you covered with an efficient turbocharged 1.5L engine. More interested in alternative energy? You can cut your teeth on the 2.0L Hybrid engine. If caring for the environment is a primary focus for yourself and your family, carrying that focus into other areas of your life, like driving, makes sense. The powerful hybrid CR-V isn't just a good choice for the environment; it's also fun to drive, a bonus that's hard to beat.
The Honda CR-V's hybrid engine packs a punch with 204 hp, and it also has an available 4-mode drive system, allowing you to drive through snow, take a detour off-road, choose a more economical mode, and more. With eight safety features, including a multi-angle rearview camera, traffic sign recognition, and parking sensors, you'll be safe no matter which mode you're driving in. You also won't have to skimp on entertainment to be kind to the environment; you'll have a premium Bose sound system, access to wireless entertainment via Apple CarPlay or Android Auto, and front and rear USB ports, so you've got plenty of options for listening to news, navigation, or the radio, along with the ability to keep the kids entertained with streaming services, podcasts, audiobooks, and more. What else do you need?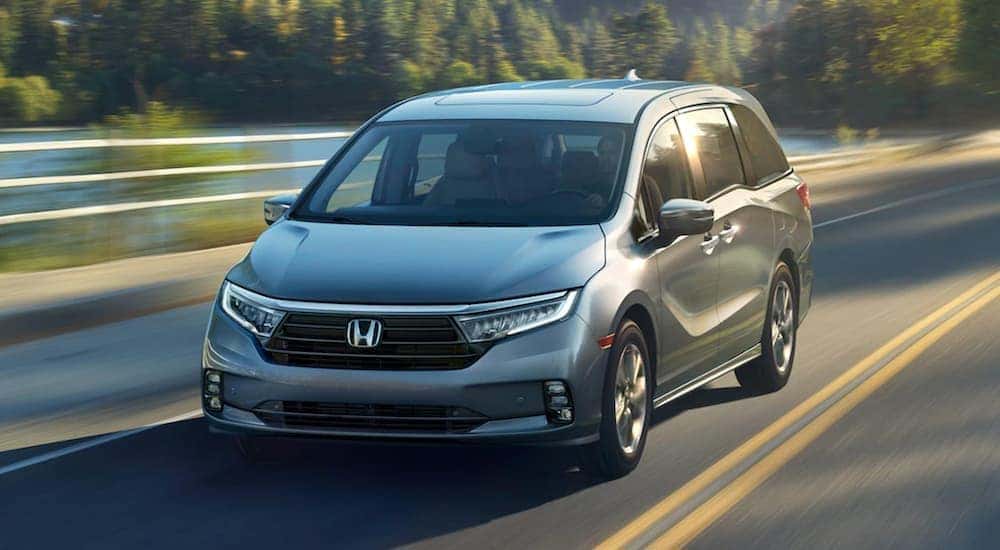 The Honda Odyssey: A Minivan Favorite
No matter what your opinion is of minivans, you can't deny that Honda has cornered the market with its minivan, the Odyssey. Even the name evokes images of travel and adventure, a good sign when you're constantly on the road for extracurricular lessons, sports practice, recitals, and the like, always headed toward a new destination. With five different trim levels, you won't have a problem finding the perfect fit for you and your family. From EX to Elite, the Odyssey comes equipped to handle whatever life throws at you, offering a helping hand and keeping an extra eye on the road so that you and your family are safe and comfortable.
The perks of owning a Honda Odyssey range from the Magic Slide second-row seats to the available rear entertainment system, to the hands-free access power tailgate, with plenty more to ensure you're able to drive, entertain, and store everyone's equipment, backpacks, and other necessities without raising a sweat. This truly is a family-friendly vehicle, from the standard safety features to the entertainment and wireless charging options. You won't have to hear the kids fighting for a charger, nor will you have to deal with running out of space to put things. You can have it all and more with the Honda Odyssey.
It's a favorite among minivan drivers for a reason; its ability to provide a quiet atmosphere and a peppy drive are rare together, as is the combination of all the standard safety features and a truly impressive roster. Honda built the Odyssey as an exceptional family vehicle, and as far as we can see, everyone else is in agreement. If you've been wondering whether to switch to a minivan to accommodate your family, now's the time, and the Odyssey should be at the top of your list.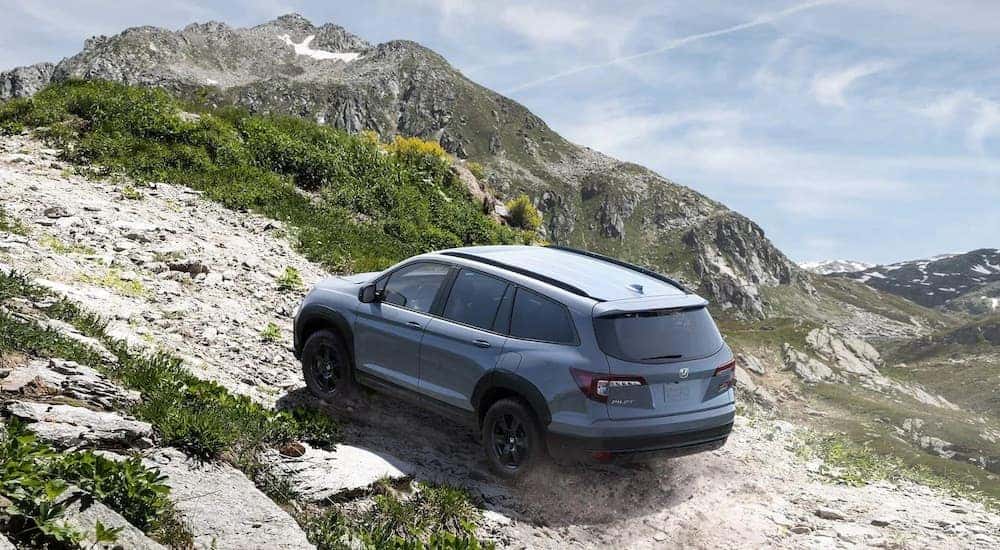 The Honda Pilot: Ready for Adventure
In your family, there's probably a range of varied interests. While one member might enjoy scenic views and the occasional off-road exploration, another family member might prefer a road trip to a historic site or amusement park. Still, another member might want to utilize the family vehicle to take their friends camping for the weekend or haul everyone to the football game for a tailgate party. When looking at Honda Pilots for sale, you will find that all of these activities are not only possible but encouraged.
If your family is more the outdoorsy type, the Honda Pilot TrailSport was built for you, complete with off-road extras that guarantee a fun time for everyone. The trim's 18-inch TrailSport wheels with all-terrain tires, an off-road-tuned suspension, and a camera system ("TrailWatch") come together to give you a memorable experience on and off the asphalt. You can make your own trail into the wilderness and have a grand adventure, and then take the backroads home, tired but content after spending a day in nature. You and your family will cherish those memories for a lifetime, and it's all possible in this exceptional midsize SUV.
Not your jam? No worries! With four other trim levels, you can find something that suits you, whether it's the ultimate word in luxury, like the Honda Pilot Elite with its heated and ventilated front seats, a 10.2-inch infotainment center, and panoramic roof, or something nice but more durable for a family with younger kids, like the Honda Pilot EX-L, which will still give you the little luxuries like the leather-trimmed exterior, power tailgate, and the ability to entertain the little ones by using the wireless feature for either Apple CarPlay or Android Auto. It doesn't matter what kind of family you are; you'll have the comfort and convenience you need to enjoy your trip, and that's really what the Honda Pilot is all about.
Give Your Family the Ultimate Traveling Experience in a Honda Vehicle
If you live near Watford City, there's a Honda dealership eager to show you everything the brand has to offer. You can check out the specs on each trim, then take a test drive to confirm what you've heard for several decades: Honda truly is built for families, whether they're small, large, or somewhere in between. With their focus on safety features, comfort, and power, it's no wonder Honda has remained a family favorite for decades.
Whether you're considering a Honda Odyssey, a CR-V, or the Pilot, whichever one you choose will become a part of the family for years to come. You can load it up with Christmas presents, the family pets, camping gear, sports equipment, and luggage for all those memories you'll be making. Contact us or come by for a visit today at Ryan Honda of Williston, and let us show you how we can upgrade your family's travels with an exceptional Honda vehicle.